WELCOME!!!
– to"Our Need for Consolation"at C.off with dancers, choreographers, visual artists and musicians from Sweden, Norway, Denmark and Finland.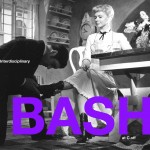 We are very pleased that you have taken time to join us! Tonight's session/event is the outcome of three workshops in Denmark, Finland and in Sweden. A group of artists from different genres have been experimenting together starting from a text by Swedish author Stig Dagerman. What you will participate in tonight is a continuation of this process of experimentation. You will not experience any finished pieces, but rather ideas, attempts and humble beginnings that is the outcome of what the group has learned from open-ended experimentation around existential questions.
Many of the presentations will involve your participation, so we invite you to be a part of the process of exploring the text. Cooking, eating, drinking and testing the boundaries of our minds and bodies together has formed an important part of the process, so you will notice that many of the presentations tonight means involving your senses in different ways.
PROGRAM.
(Organised by Emmi Venna and Gry Tingskog)
FOREST
Watching Images – (Collective performance led by Per Huttner and Carima Neusser)
The Dance of Slowly Dying Together with an Object– (Collective performance led by Gry Tingskog and Carima Neusser with music by John Andrew Wilhite)
The Last Reading – (Collective performance with improvised music by John Andrew Wilhite)
CAVE
Fingerfood – (Collective performance led by Simone Bang Jørgensen and Sara Gurewitsch)
Reading into Darkness – (Collective performance led by Ann-Christin Berg Kongsness assisted by Emil Krog)
MIRADOURO
Video Collage with videos by Karon Nilzén, Carima Neusser, Per Huttner and Emil Krog
Sleeping Bag Viewings with Tuuli Malla
BAR and SPACIAL DESIGN
Alex Basura
Karon Nilzén
ENJOY!!
***
VÄLKOMMEN!!! – till "Vårt behov av tröst" på C.off med dansare, koreografer, bildkonstnärer och musiker från Sverige, Norge, Danmark och Finland.
Vi är mycket glada med att du är här i kväll! Kvällens evenemang är resultatet av tre workshops i Danmark, Finland och i Sverige. Konstnärer från olika genrer har träffats och experimenterat tillsammans med utgångspunkt från en text av den svenska författaren Stig Dagerman. Det du deltar i ikväll är en fortsättning på denna process. Gruppen visar sålunda inte några färdiga verk, utan snarare idéer, tester och början på något nytt. Det du möter är resultatet av vad gruppen har lärt sig av att experimentera runt de existentiella frågor som Dagermans text väcker.
Många av presentationerna kommer att involvera ditt aktiva deltagande, så gruppen bjuder in dig att vara en del av utforskandet av texten. Att äta, dricka och testa gränserna för våra sinnen och kroppar tillsammans har varit en viktig del av processen, så du kommer märka att många av presentationerna i kväll innebär att dina sinnen på olika sätt involveras.
TREVLIG KVÄLL!!!!
Participants/deltagare: Vanessa Virta, Sara Gurevitsch, Tuuli Malla, Emmi Venna, Alex Rosa, Karon Nilzén, Ann-Christin Berg Kongsness, Agnes Due, Simone Bang Jørgensen, Emil Krog, John Andrew Wilhite, Per Huttner, Carima Neusser, Gry Tingskog and Stine Frandsen.
Organsiation: Carima Neusser & Per Huttner for/för Vision Forum. Support/Stöd by Volt 1/17, the Nordic Culture Fund & Stockholms stad. Partners: Medical Museion, Wooloo, Human Hotel, Morgondagens konstpublik, Linnéuniversitet, Wrap & Energiverket.